I'm so over Winter. I want days in the mid 60's, with warm breezes, not blustery cold winds that cut through clothing and freezes your toes even with 2 pairs of socks and Uggs on. I am craving spring and summer veggies, more variety than what is available now.
Running across two different recipes for a basic tomato sauce, made me happy. I found the Scarpetta recipe at Steamy Kitchen, but that was a bit more than I wanted, not that a garlic basil oil isn't tasty, I just wanted a simple recipe I could throw together while cleaning house. A few weeks later I run across Smitten Kitchen and her quick tomato sauce recipe. Now I'm more in tune with her recipe since she's got her hands full with a really cute little baby.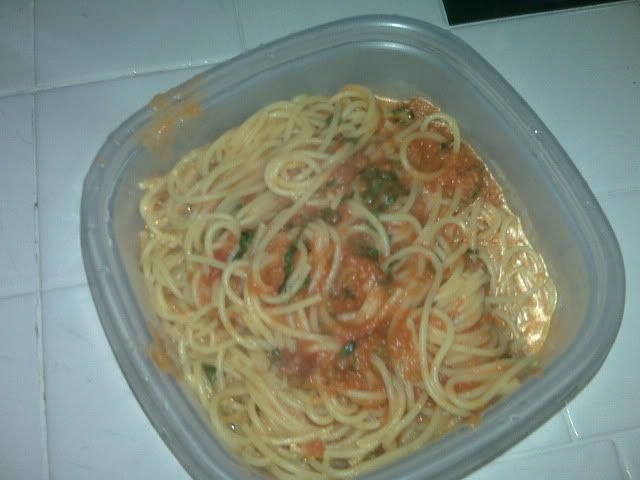 This was my lunch for two days, and it was totally yummy. When one thinks about it, what does a basic sauce need? Tomatoes, onions, and butter. Life can be fantastic with just those three?
One can of tomatoes, I have used San Marzano style, regular whole peeled, diced, and no salt kinds. They all work. Since it's a side dish, I use only 14oz cans of tomatoes, not the 28oz. It requires half a onion and 3 tablespoons of butter. Just put it all in a sturdy pot and put it on low heat to simmer for 40 min to 1 hour. Stir occasionally.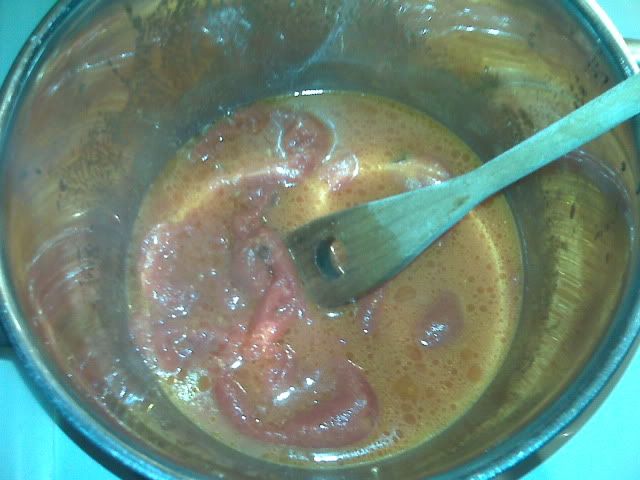 This is what it looks like when it's been simmering for a while. I like to puree the sauce when I'm done, so I used my hand immersion blender. I do admit I enjoy basil so I chiffonade a few leaves and toss them in after the immersion blender, then salt if needed. So if you need something warm and sunny give this a try. Right now I'm trying to keep a basil plant alive in this cold. Hopefully it will make it to Spring and I'll be able to plant it.