Last week the Eastern Seaboard was inundated with snow. What was it called? Snowmageddon. WTH? Yea, well some nut decided to call the snow system that hit the deep south, Snowplosion. Another WTH? Atlanta doesn't get high volumes of snow. More like 4 inches the whole winter, not in one day. We get wintry mix, which is really just icy rain. So in preparation of the snow fall, I planned on two recipes. Chicken soup and snow cream. Yea, I had to make snow cream when I found out I would actually have a decent amount of snow.
I grabbed two of my biggest bowls when the snow was actually sticking to the ground, that's about an hour after it started falling.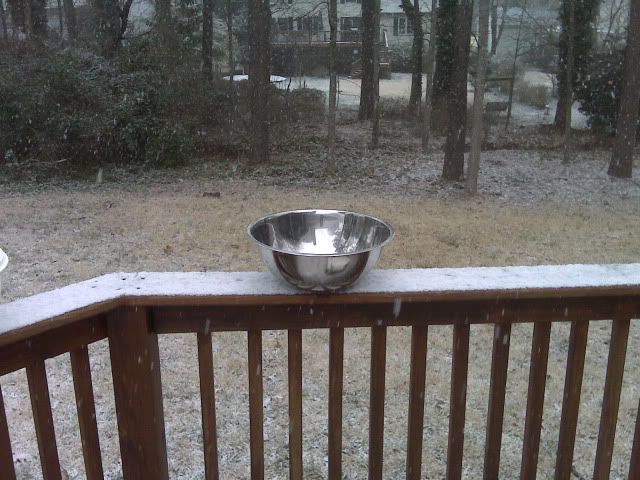 Now that we have that out of the way... It's time for the soup. My son was waiting for a decent ground amount before heading out, and I knew he would be cold and hungry when he came in. Of course hot chocolate was on the menu too.
I wanted to try using frozen vegetables to see how the flavors would be compared to fresh mirepoix. I have a friend who hates onions. She grates or minces them as small as she can so they practically dissolve in the cooking process. Also I didn't make a fresh stock, even though I have plenty of carcasses in the freezer. My son has decided that using store bought rotisserie chickens do not give him the flavor he likes. I guess it's back to using the rotisserie on my grill now. So I have a jar of chicken base. It gives an extra oomph to the stock of "chickeny" flavor. I think it's the salt, but that's what the men like.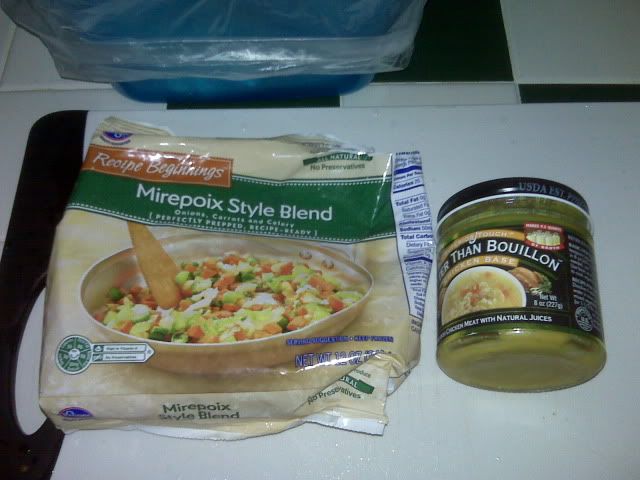 Only one breast was used as it makes plenty of soup for 3 people and leftovers.
So the recipe starts like this;
8c water
1 bag of frozen mirepoix mix
1 tablespoon of chicken base
1 bone in chicken breast (1 lb, these things are big!)
salt and pepper to taste
cooked egg noodles
Using a dutch oven or 6 qt pot on high heat, bring the first 3 ingredients to boil.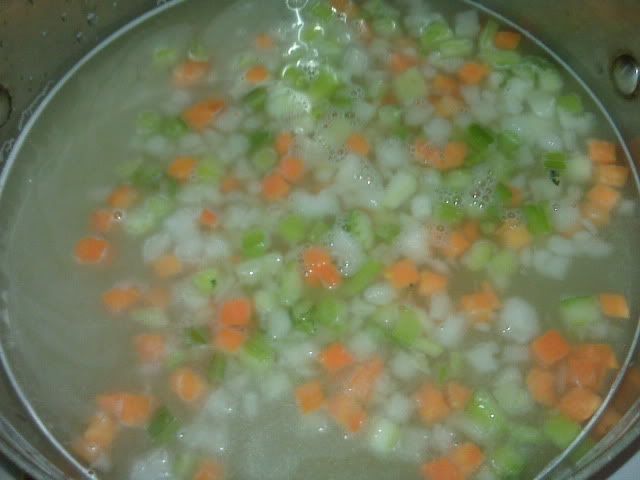 So when that's boiling, place the chicken breast into the pot and lower the heat to low, you want a slow simmer. Simmer for 30 min, then take the chicken breast out to cool, and continue to simmer the soup for another 30 min.
When the chicken is cool enough to touch, go ahead and shred it or dice it. I like shredding.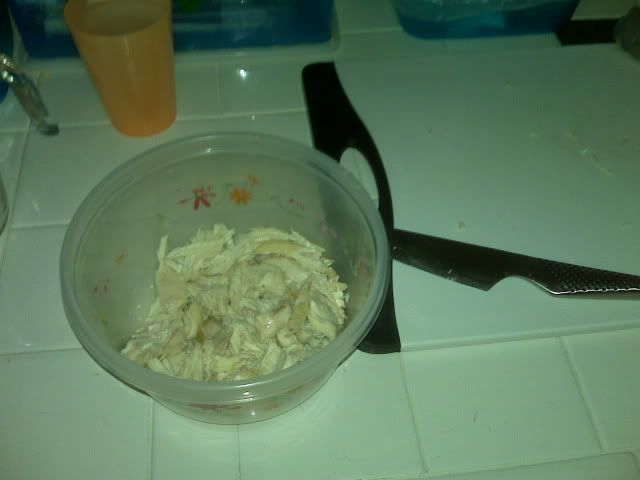 After 30 min has passed add the cooked egg noodles, and the chicken to warm up and serve.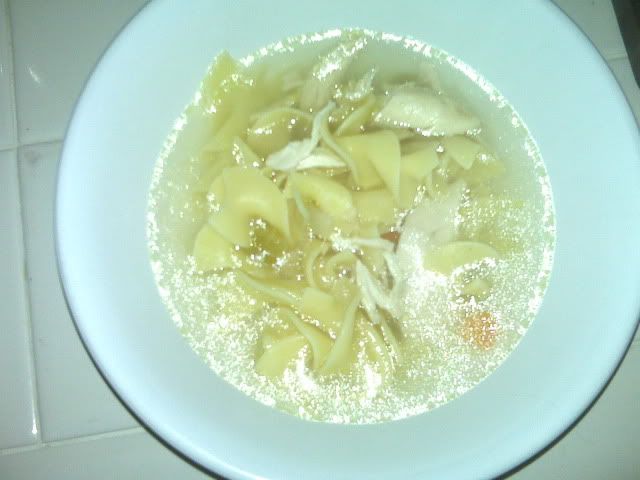 Now some people like herbage in their soup, so you could use dill, parsley, tarragon, oregano, whatever floats your boat.
So the boy has come back in, soup has been gratefully consumed along with the hot chocolate, and now it's late in the evening. The sun has gone down and the snow will turn icy. Time to bring the snow in.
I'm using the same recipe, but my flavoring happens to be powdered vanilla.
The thing about snow in Atlanta is that it's usually hard packed icy stuff. It's pretty wet. But this snow storm gave us some fluffy dry snow. (Isn't snow frozen water particles? How can it be 'dry'?) This stuff was fun to work with.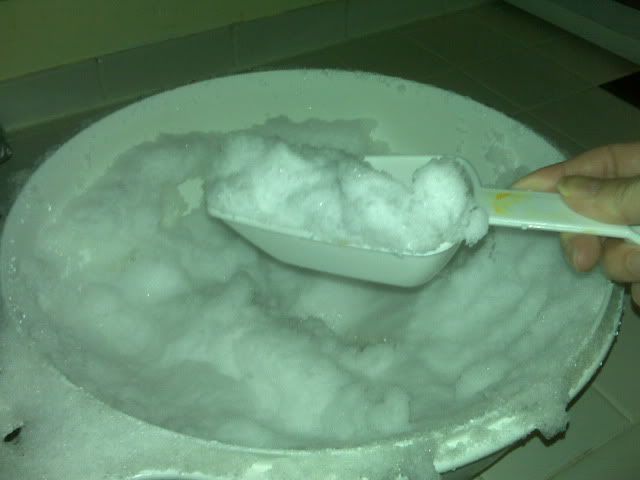 And this is the finished product. Sorry, I am still using my camera on the Blackberry, and well I don't have any bowls that aren't white inside. It's slightly yellow in color, more like cream because of the powdered vanilla.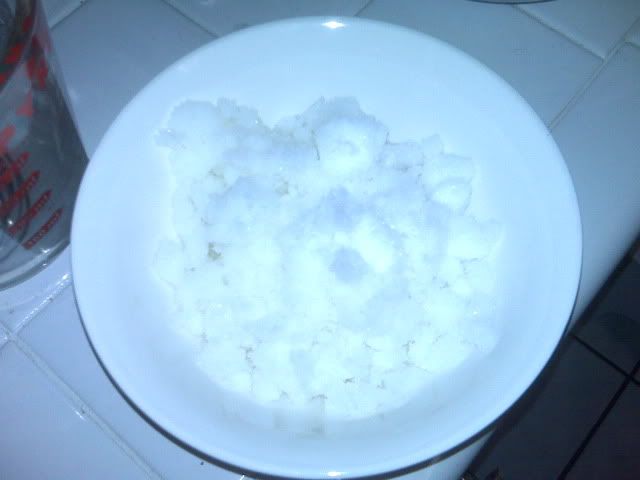 And yes, it was tasty. I was going to try using Oceanspray Blueberry cocktail juice for blueberry snow cream, I would have skipped using milk, and it would have been more like a slush or a sorbet, but the second bowl of snow turned to icy slush the next morning.
But you do need to grab a bottle of the blueberry cocktail juice and make yourself a blueberry martini. Yes you heard me right, vodka, vermouth and blueberry juice. That was the fastest I've ever consumed a drink. My husband makes a mean martini.