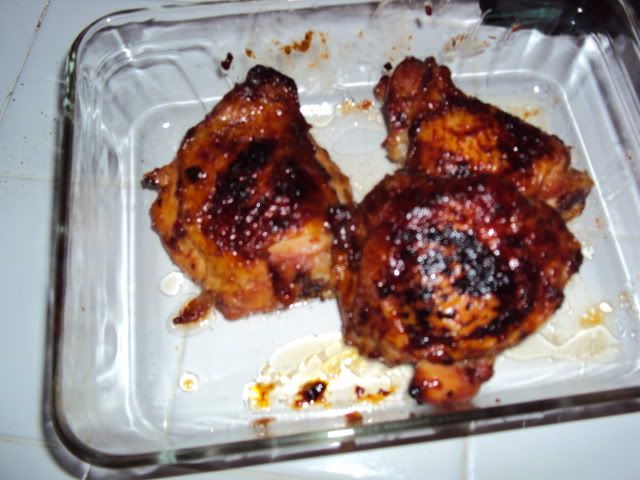 This one of my go to marinades for chicken and pork. In fact it's absolutely wonderful used on the grilled items. I've adjusted the spice factor several times for the tastes of guests. It requires a specific ingredient which you should be able to find in the ethnic foods section of your grocery store.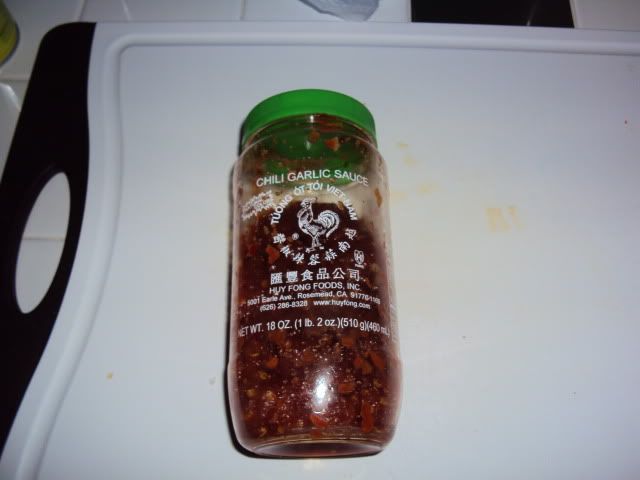 I always buy this brand and no, I haven't a clue how to pronounce the name of the company, I just call it Rooster brand. This is not the same thing as the Chili sauce with the dispensing spout. This sauce has actual red chili seeds in it. It's thicker, more like a paste. Now on with the recipe....
1c brown sugar
1/4c ketchup
1/4c soy sauce
1/4c rum
1/2c chili sauce (I've used as little as 2 Tbs)
2 cloves garlic, crushed or minced
1 tsp dry mustard
dash of black pepper
I use a 2c pyrex measuring cup for all the liquid ingredients first then dump them into a bowl and then add the remaining ingredients. Once this is mixed well, place 3lbs mixed bone in chicken parts in a ziptop bag, pour half of the marinade into bag, close bag and massage to cover each piece of chicken in marinade. Place in refrigerator for 1 hour. Simmer remaining marinade in a small pot on low heat until thickened to preferred consistency, and let cool off heat.
Preheat oven to 425*
Empty bag of chicken and marinade into a 9 x 11 baking pan, arrange chicken in one layer skin side up. Bake for 25 min. Remove from oven and baste chicken with marinade in pan, return to oven for another 20-25 min. Remove from oven and let rest 5-10 min. Serve chicken with cooked marinade alongside.
Yes you have to cook the marinade down as it's really not a good dipping sauce otherwise. You can also cook the sauce down and use it as a wing sauce too.