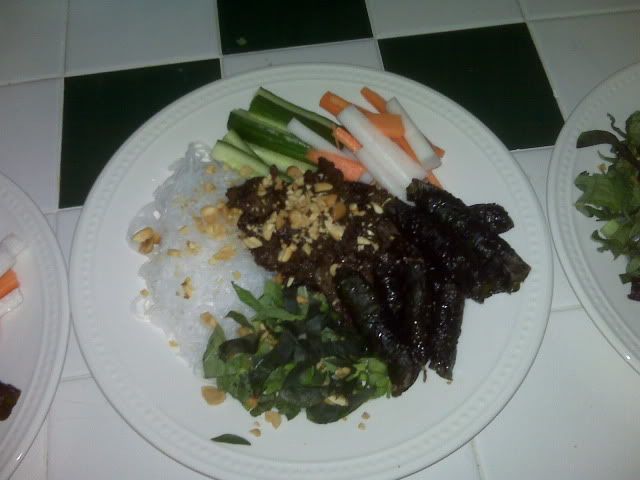 I totally have a craving for Vietnamese food. Now this is a shameful story to tell you. I grew up eating Cantonese, and plain American fare. Typical American fare would be spaghetti, pizza, lasagna, and hamburgers. I branched out when I got married and worked on my french bistro, Tuscan, and Northern Italian dishes. I have enjoyed Indian food, but alas curry is not something my husband likes. In the past 6 years we've expanded our palate to Thai, and Vietnamese food. The shame of it all is that I didn't experiment with these cuisines until I was in my 30's, and now I find living in the suburbs of Atlanta, there isn't a large variety of Asian cuisine. (The ubiquitous brown or white sauced entrees were never in my Mom's repertoire.) Oh and by the way, what the heck is the big deal about the white sauce at the hibachi restaurants out here?
One of the first ethnic restaurants we went to when we moved to Atlanta was this place I found through the AJC's food section. Grape Leaf Grill in Marietta. This place was hilarious. The chef is temperamental. I'm not certain if the waitress screwed up the order or the chef decided what you were to eat. There was this whole story to our first visit there. We read great reviews about the restaurant and decided to try it out. When we got there, it happened to be rather early and a weekday so it wasn't too busy. The waitress took forever to even bring water to the table. She offended my son somehow by insinuating he was a young kid,(Hey, he was 10 and at a crossroads, plus he was small) We finally made our choices and we looked forward to our orders. My son was still incredibly upset that the waitress treated him like a little kid, he wanted to leave, we were trying to enjoy a meal as a family that wasn't at some obesity buffet, and learn the area we would be staying in for a few weeks while our house closed. It took over 40 min for our meal to arrive, and not once did the waitress refill our water. But oh the food! The chef was known for his bo la lot, meat stuffed in betel leaves. He had left another very popular restaurant to start Grape Leaf. We made sure we ate there once a week for the next 6 weeks. My son was able to get over his anger by playing with the chef's son, and we got to watch a soap opera play out with the waitress. I can't even explain it all, but the food was what drew us. We kept trying to order different meat in our bo la lot. Once we had beef, but mostly the chef kept giving us his pork filling. I never figured it out, but I know for certain each time we came he was going to give us the pork ones, and whatever else we ordered. I really miss that restaurant, and it's not that feasible for us to go there since it's about a 70 min drive with NO traffic. Hey this is Atlanta, when is there no traffic? Also we don't have reasonable excuses to go up there besides the restaurant.
I was wandering about through the food blogs, and I've followed
White on Rice
, for a while. I took a peek at the recommended blogs and ran across
Ravenous Couple
Perusing through their recipes I found
bo la lot
Wow, one of our favorite dishes, and it didn't look that difficult. Since Hong and Kim mentions it's part of a meal called Bo Bay Mon(seven courses of beef) I figured why not, and found another recipe that sounded tasty, and used beef as the meat,
bun thit nuong
Which then led me to make their pickled daikon and carrots too.
Now where do we begin? I had gone to the Korean market for some supplies, but I still forgot one item and well, it might have made a big difference. Unfortunately the store is an hour away, hopefully I will find it at Kroger. Betel leaves are not in season so frozen was the way to go.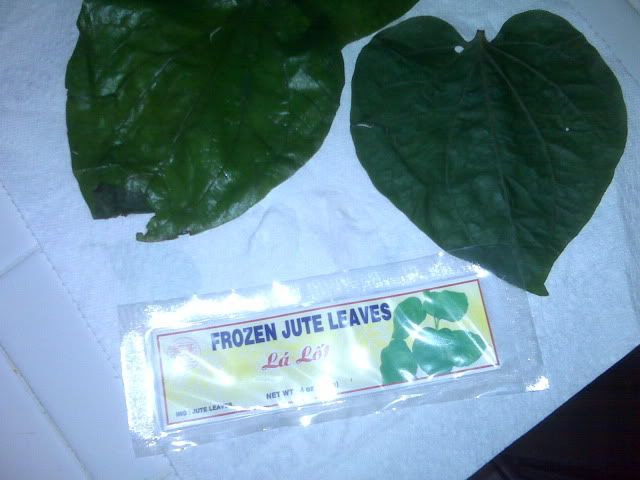 The label says Jute leaves, but they aren't. No clue why, it's actually Perilla, and there are different varieties, the one with the saw tooth edge leaves are also known as shiso leaves. I took the leaves out of the package and placed it on paper towel to defrost at room temp. I barely used a third of the package with this recipe. I also chose to use frozen chopped lemon grass instead of dealing with fresh.
While the leaves were defrosting, I mixed up the meat and seasonings and placed that in the fridge.
Now time to marinate the beef for Bun Thit Nuong. The recipe calls for pork, but I decided to use thin sliced ribeye instead.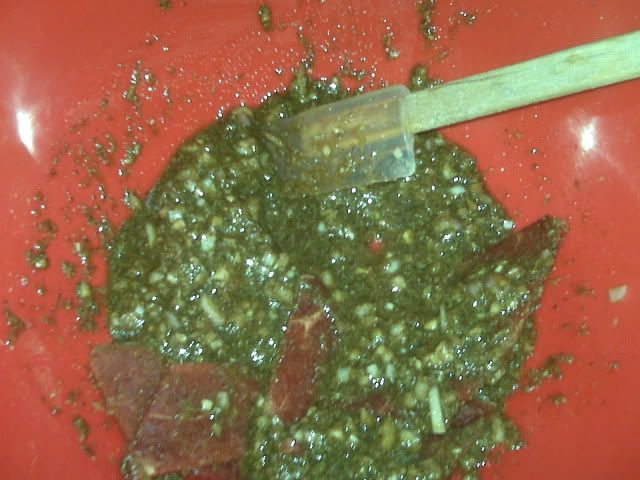 Now it's time to cut up the daikon and carrots. I did not use my mandoline or food processor, and just cut them up into thick strips.
After everything had marinated for 2 hours and the betel leaves were separated, it was time to make the bo la lot. Yes, you will end up using your hands to form the meat, and do make sure you clean your hands before grabbing your phone or camera to take pictures, meat germs on electronics are never a good idea.
I used less than a pound of beef and made more than 30 rolls.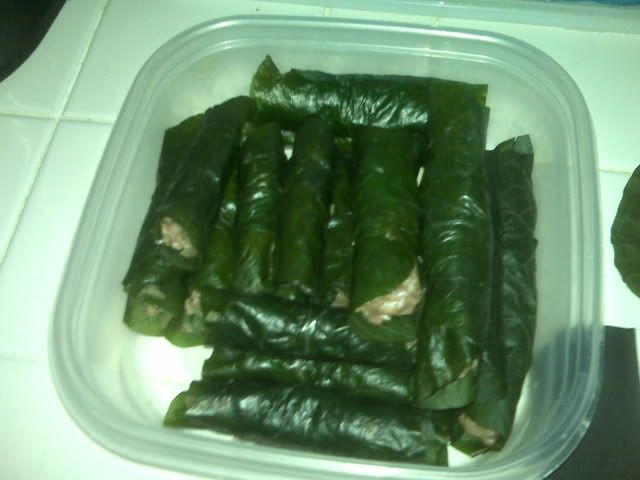 The oven was warming up and the rolls were placed on my broiler pan, I'm not quite ready to head out and grill yet, it was raining.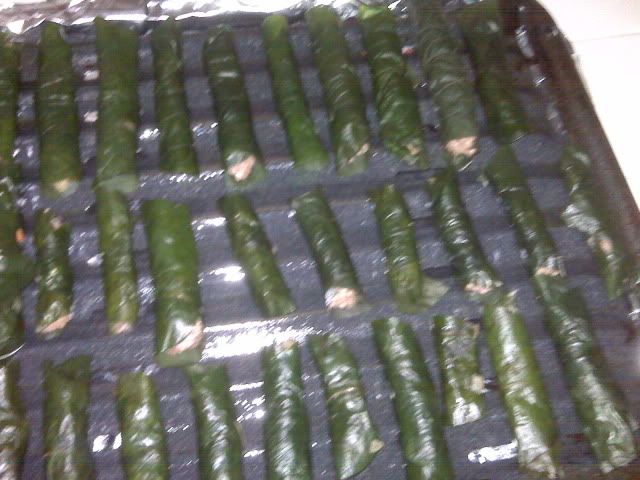 While I was waiting for the broiler to come to temperature, I cooked the fine rice vermicelli, and rinsed under cold water.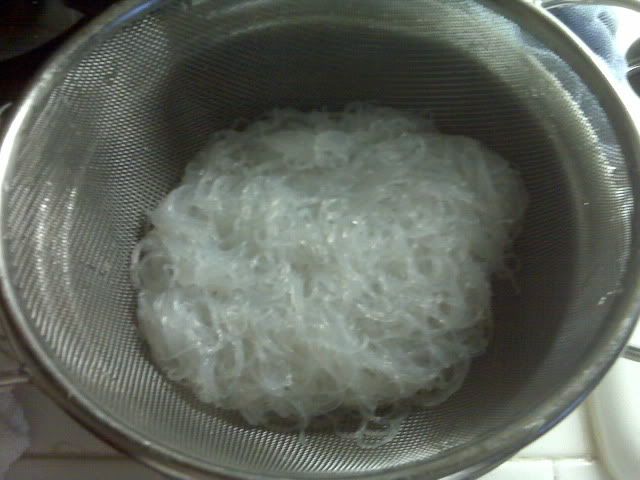 Again, I cut an english cucumber into large matchsticks, and julienned basil, mint, and sliced green onions.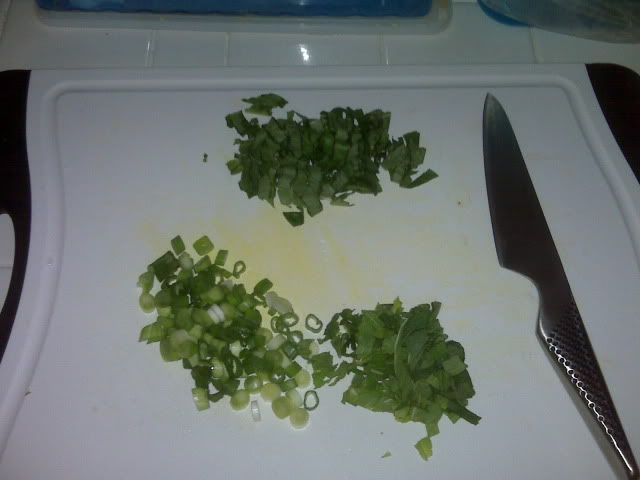 At this point the rolls went into the oven, and I started the Thit Nuong. Using a large pan, with about 1 tablespoon of canola oil over med-high heat, I seared the thin slices of beef.
Again no grilling due to rain. Next time yes I will use the grill and I have a grill basket too!
I decided to plate the meal instead of serving on a platter family style. This is the meal without the bo la lot yet.
So how did it go? Well the adults enjoyed themselves. The beef turned out fantastic. I really enjoyed the combination of basil, mint, green onions, betel leaves, and chopped peanuts. Herbs as salad ingredients, why isn't this more common? Rice vermicelli is mild in flavor and really helps the textural qualities and absorbs the juices from the meat. Sweet, salty, spicy, cooling, and umami. The rolls were not as spiced as I thought they would be. Perhaps it is because I did not add the curry powder in the recipe. (Remember the man who does not like curry?) I even goofed up and used 2 Tablespoons of fish sauce instead of the correct 2 teaspoons! They were rather bland. Back to the drawing board on that one. I won't discuss the kid's opinion, as it was a bad hormonal day. Anyone want to raise an obnoxious, spoiled, self centered boy? Next time, Pho - Beef noodle soup. Don't worry, this Vietnamese kick won't last that long. We'll go back to boring pork chops soon.