As Bella posted we made another recipe together. I bit of planning as I really did want to bake on Saturday, but I came home from work pretty darn wiped out. So what did I learn from this recipe? I didn't bother with precise measurements. No matter what Bella says, I really don't measure that much.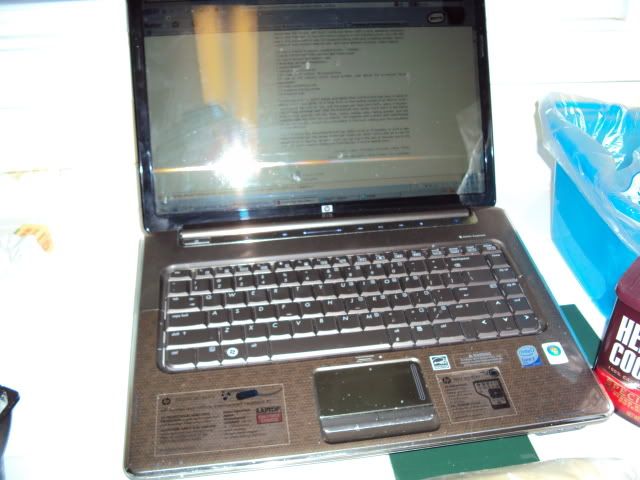 Hmm, I seem to have gotten Bella dirty. Well when in the kitchen messes do occur.
I had gone to the store to pick up fresh berries and a few things for dinner that night. I had even mentioned to Bella earlier that I needed more butter as I had only 3 sticks left. I usually have a spare pound or two in the deep freezer, but for some reason my deep freezer is full of split chicken breasts and I'm afraid they will break a foot as I go looking. I sparingly buttered my bundt pan, but I floured the heck out of it!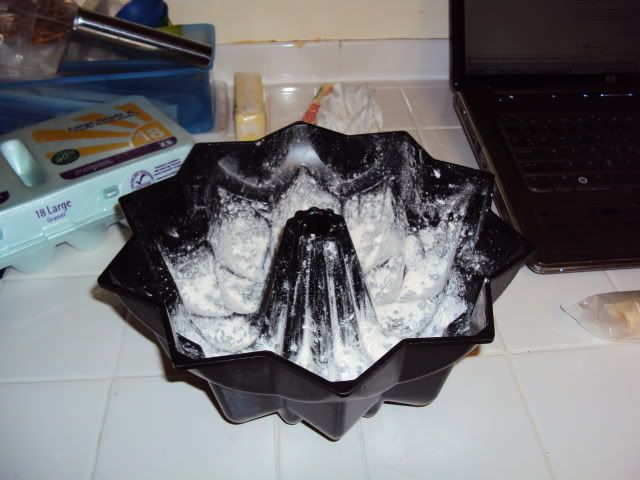 Bella mentioned coffee in the cake, I had a fresh pot of coffee brewed, so I just poured it into the batter, perhaps a tablespoon or so. I also used cinnamon, and ground ginger into the batter. Bella used whatever Hershey's cocoa powder she had available, I did also, but I happened to grab the Dark Chocolate powder.
I chose to bake at 325* for an hour. I let it rest out of the oven for about 30 min before releasing from the pan. Hmm, note to self; next time when I flour a pan for chocolate cake use cocoa powder instead. I had clumps of flour stuck to my cake. Hmm, maybe I just shouldn't use such a heavy hand or make more of an effort to remove the excess flour.
Thank goodness for powdered sugar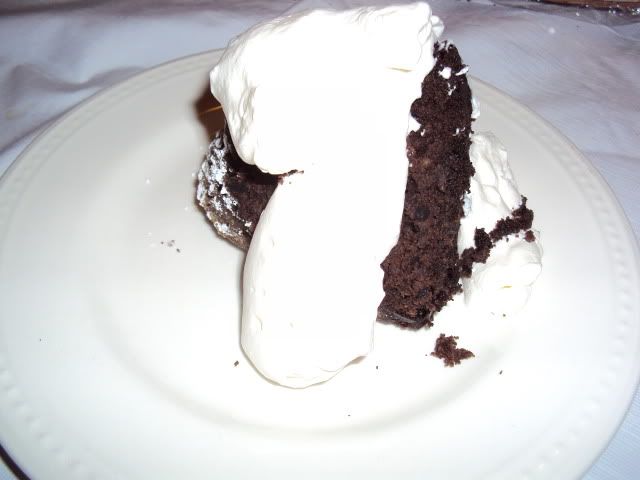 Oh so what did I do while Bella was making a pork loin? Well I had a flank steak marinating in Bulgogi sauce for the grill. Also since Stinky was to start school the next day, I felt the need to make sweets to bribe him in a good mood. I made an off the cuff compost cookie dough, and also a blackberry pie. What can I say? I made sure I got all my baking done in one day.
These cookies were made from a basic chocolate chip dough. 2 sticks butter, white and brown sugars, etc etc. What was different was that I used a full bag of chocolate chunks, a bag of Heath Toffee bits, and half a bag of Caramel bits, oh and about 1 1/2 cups of stale pretzel sticks.
So on to the pie. My husband has a love of blackberries. Also Stinky had to mow the backyard and it's quite long so I didn't want an argument or worse, so a bribe was necessary.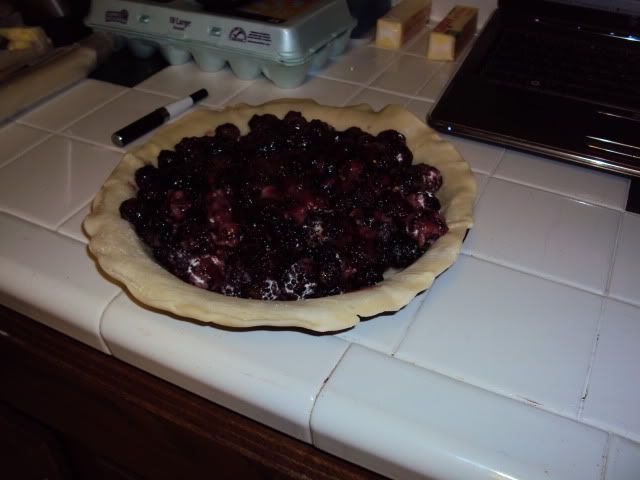 It's a basic recipe I grabbed from Simply Recipes. Elise has a wealth of easy reasonable recipes to peruse through. I did not make my own crust as I was short butter. I admit I do have Pillsbury ready made in the freezer, so that was defrosting while we were cake baking.
I baked this pie at 400* for 30 min, then reduced the heat to 375* for another 30 min. This recipe called for 5-6 cups of berries, fresh or defrosted. I didn't wait for the berries to defrost fully and drain the excess liquid, hence my pie runneth over.
Oh but what a happy husband I have now.
Of course I had to make whipped cream for the cake, and it certainly goes well with pie too.
By the way, the pie is gone. It barely lasted 2 days. What can I say, he loves his pies.