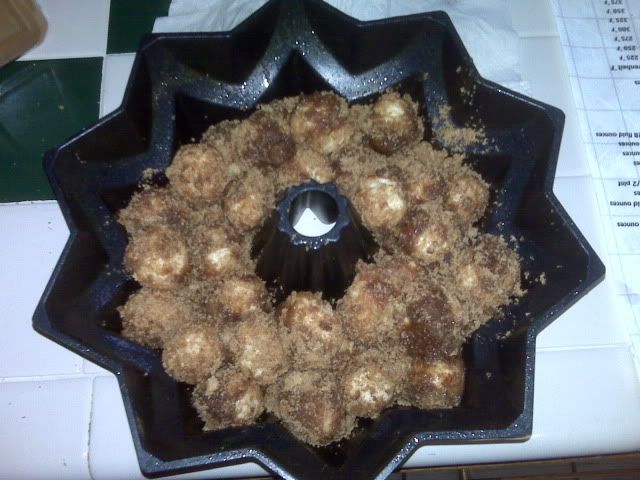 As usual I check my favorite food blogs and one of my favorite bloggers never fails to deliver. Deb from smittenkitchen.com has a recipe called
Monkeybread
. One of the reasons I'm following her also is that she has an adorable little baby boy, and she posts photos of the darling. Another reason why I follow Deb, my wonderful sister in law loves her recipes too and has a darling baby girl, who's just a few months younger. Plus they live in the same city! lol
Now, I don't have a sweet little boy. When the finished product was placed in front of him, and told what the dessert was called, he decided that the name didn't fit, but "Monkey Balls" did. So we will now refer to them as such. (More after the break)
So follow along Deb's recipe and I'll share my experience with this recipe. The dough was a simple quick yeast bread recipe. Fairly easy, and when people say, " Quick yeast bread" they mean it takes 2 hours instead of something like a brioche dough which takes minimum of 8 hours.
This was my dough after I mixed the milk mixture and flour together, using my kitchenaid.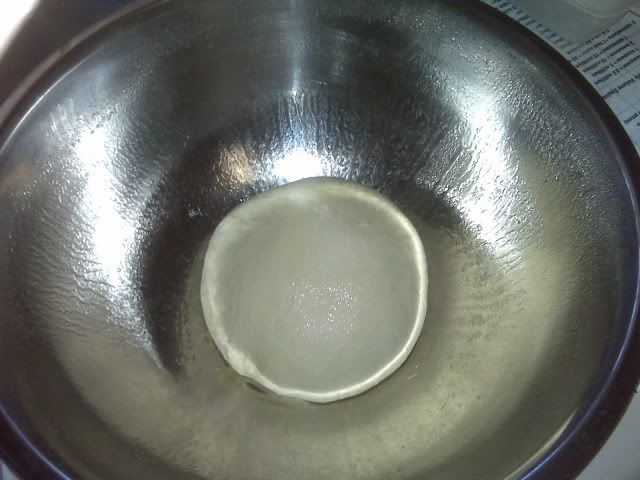 I had to knead the dough for 10 min, not 7 min.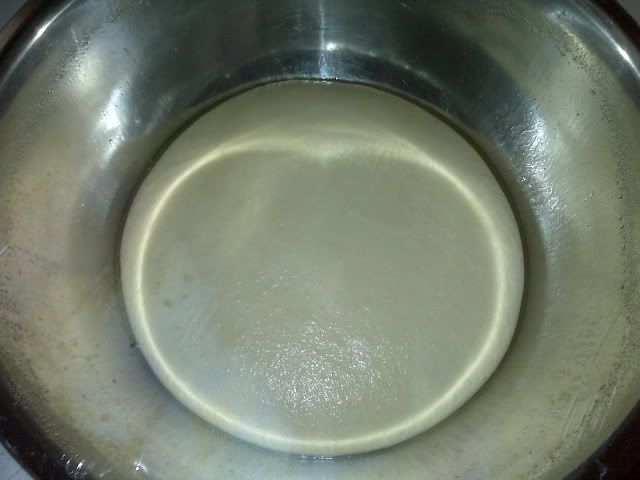 I let the dough rise for an hour and 20 min.
I moved the cut dough all over the work area so they wouldn't stick together.
I did find that I used more butter and cinnamon sugar mixture than Deb did. I used 10 tablespoons of melted butter for the dipping, and increased the brown sugar to 1 1/2 cups of brown sugar, and 4 teaspoons of cinnamon.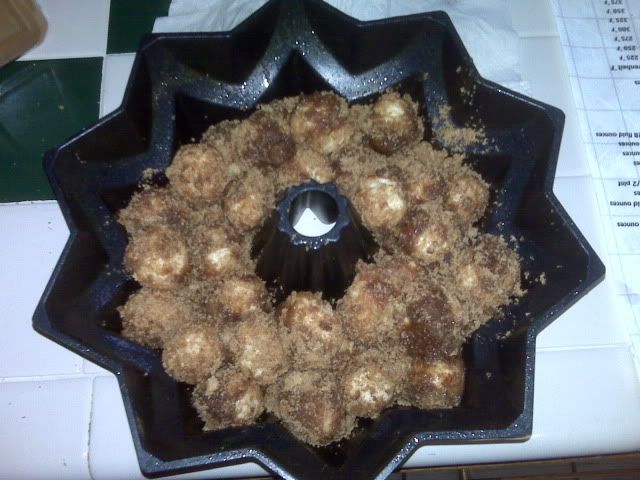 I used a two cup pyrex measuring cup and dropped four balls in at a time, then using a wide soup spoon scooped the balls out and dumped them into the cinnamon sugar. I tossed them a bit in the bowl and using a fork removed them and placed in the bundt pan.
At this point I covered the bundt pan with the same piece of plastic wrap and back into the oven it went to rise again.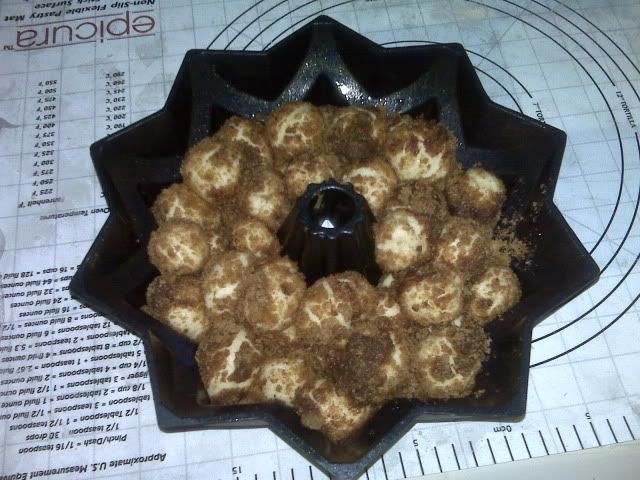 Now we are ready for the oven. I baked it for exactly 30 min.
But what I didn't do was take it out of the bundt pan the prescribed time she mentioned. I flipped the pan after about 10 min.
I lost a few in that flip.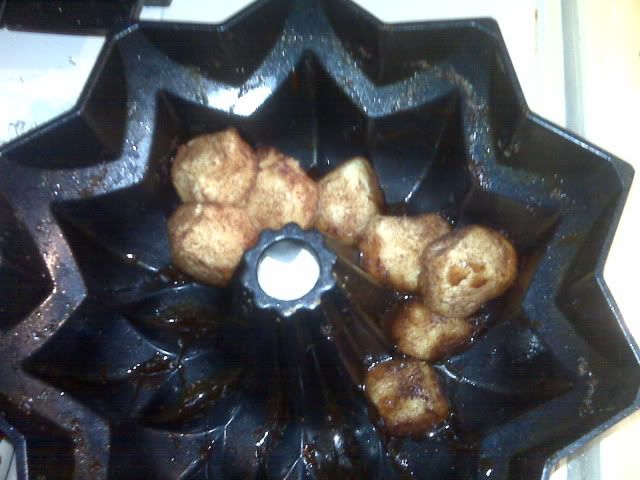 I think the problem might have been the timing and the shape of the bundt pan. I didn't have a round bundt pan, well I did, but it was a crappy silicon one, that wasn't able to hold it's shape properly. I tossed it many years ago.
But oh man were they tasty! The balls that were on the bottom had a lovely caramel gooey glaze.
They pulled apart very easily. Perhaps more gooey caramel was needed. Sorry I wasn't able to get a decent shot of the interior. But I can tell you, it had a sweet nice tender crumb. We all really liked this recipe, and the next time I make it, I will put a layer of brown sugar, butter and cinnamon mixture as a base and build the monkey balls on it. When it's served, it would be like donut sized cinnamon rolls, with a bit of the caramel goo on each one!