My son had a friend over for a sleepover. This friend is a vegetarian, and well my kid is definitely a meat eater. I told him I was getting him a shirt that said, "Powered by Bacon" He's all for it. Most kids have a love of pizza. Well unless you are a teenager working at a pizza parlor, and see it daily. I was that teen. I worked at a Round Table Pizza when I was 16. What skill did I take away from that after school job? I can still weigh a pound of cheese in my hand. Of course I'm going to make pizzas from scratch! More after the break.
So the ingredients are as follows;
1 3/4c warm water (no more than 100*)
2 1/4 teaspoon Active Dry yeast or 1 pouch( I use Fleischman's in the jar and keep it in the fridge)
1 tablespoon olive oil
1 teaspoon salt
3 1/3 c AP flour
3lbs shredded cheese
1 cup tomato sauce, tomato paste, or marinara sauce
toppings of your choice
In a 2 cup measuring cup measure out warm water, sprinkle yeast, and stir in olive oil.
Next step, measure flour and salt into mixer bowl, insert dough hook, and set to stir to aerate the flour.
Slowly pour the yeast liquid mixture into the bowl. After the liquid is incorporated increase speed to low and step away for 5 min to check on your monkey ball dough. Check dough and see if the dough is coming together, if it is, great increase speed to 4 and wait until you hear dough slapping and it comes together in a cohesive ball. If not, give it another 3 min, and if it still seems wet add another tablespoon of flour.
Lightly flour your working area and flip dough out of bowl. Knead a few times by hand and form a ball, tucking the dough underneath, until you form a nice smooth ball. In a lightly oiled bowl, I used cooking spray, place the dough in the bowl and toss it a bit to oil the dough, or you can just spray the dough too. Cover with saran wrap and let rise for 1 1/2 to 2 hours until double volume, in a draft free place. Usually it's in the oven to do it's thing, freeing the counter.
Take the dough out of the oven, and adjust your rack to the upper middle of the oven. Now I don't have a pizza stone, what I do is invert a baking pan on the rack and use that as the stone. Preheat your oven to 450* if you don't have decent exhaust hood, or 500* if you do. While the oven is heating, take the dough and place it on your lightly floured work surface, cut the dough into 3 pieces. Now this is where I use my big pizza pan. I cut 3 sheets of foil and lay them over the pan. (Hey, I only have one pan) Place one of the balls on the foil and gently flatten and stretch the dough out to the edge of the pan. Oh, by the way it's a big pan, the size of a family sized pizza. If you have smaller pizza pans separate the dough into more balls. Remove formed pizza and repeat with next ball on underlying foil.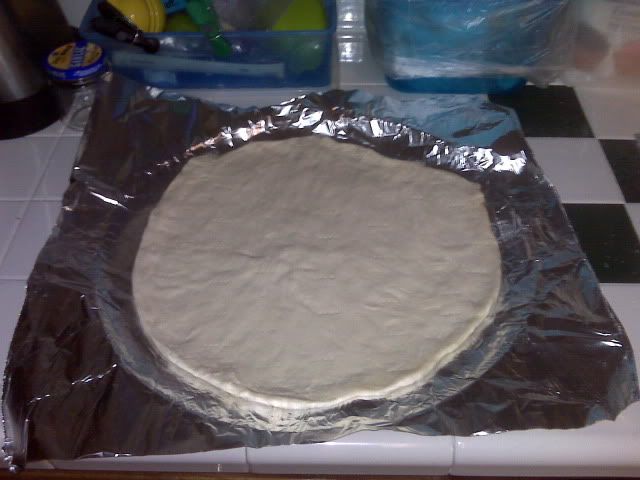 Now take that pizza pan and place that in the oven to heat on top of the baking pan.
Now spread the sauce over the pizza, using the back of a large spoon, or silicon pastry brush. Sprinkle 1lb of cheese over the entire pizza, add toppings as desired.
We made cheese, shallots, and mushroom pizza for the vegetarian, pepperoni, shallots, mushrooms and olives for the boy, and the adults had sausage, mushrooms, shallots, and olives. I used shallots because I had them in my fridge and I couldn't find small onions at the store. I also wanted a diced tomato, but they aren't in season.
Open your oven remove pizza pan and place on open oven door, carefully lift the foil and place on top of the pan, put pan back on baking pan, and bake for 10- 14 min, depending on how topping heavy your pizzas are.
As each pizza is done, I just take the pan out, place it on the oven door, lift the pizza out, and put the next one on and back in it goes. Yes, there is a waiting time for each consecutive pizza, but we are use to it.
Tips:
Pepperoni is so greasy. I use a heavy plate with two layers of paper towels and lay out the pepperoni singly, cover with another paper towel, repeat laying of pepperoni, until you have used the desired amount. Cover with another layer of paper towel, then place another heavy plate over the layers. Hey it's a pepperoni sandwich with plates as the bread! Place in microwave and heat at full for 1 min. Remove pepperoni to another double later of paper towels to soak up any excess grease. This makes the pepperoni firmer also, and you don't get that grease slick on your pizzas.
Sausage and mushrooms are great, but Commercial ovens heat higher, so I worry about fully cooked sausage. I brown the sausage on the stove and drain on paper towels before sprinkling over the pizza.
Mushrooms pre-sliced are nice, but they are still too thick for a pizza, if you have the talent and kevlar gloves use a mandoline, otherwise break the mushrooms into chunks or rough chop whole ones and sprinkle.
Basil is great whole or chiffonade.